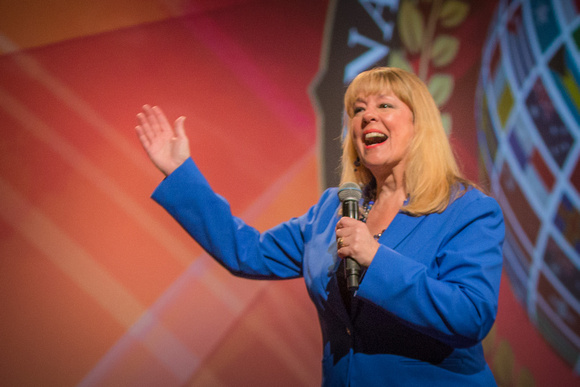 February Workshop with Peggy Brockman
Date: Tuesday, February 27, 2018
Time: 9:30 a.m. - 12:00 noon
Location: Marriott Legends at Capitol Hill
Cost to attend workshop only: $69
Cost to attend Business Breakfast and Workshop: $89
Speaker: Peggy Brockman, Author, inspirational speaker and business coach
"Oh No They Didn't!"
Get ready to laugh and learn! How many times have you or someone around you made the bold statement "Oh No They Didn't!!"? Wonder why on earth some people behave the way they do…say things they do? And are they really behaving "badly" or are you just looking through your lens of what may be a VERY different personality behavioral style? When you can truly understand people, you can truly create great success in life & business! People are unique. Our keynote speaker, Peggy Brockman, is an expert in behavioral and interaction styles. Not only is she an engaging author, corporate trainer, and inspirational speaker, she also owns a distributorship of The Assessment & Development Group, International. In fact, Peggy will make arrangements for EACH ATTENDEE to take the assessment and receive a personal review of the results (a $200 value). Her company, Brockman Enterprises, Inc., develops programs and a system for companies to improve employee engagement and better manage their employees by understanding each at a glance. The system helps them hire the perfect person the first time saving 10's of thousands of dollars in employee replacement costs. They also provide leadership training and business coaching as a member of The John Maxwell Team. So, if you ever DREAM of better communication with family members, organization or business co-workers, you are going to LOVE this interactive program!
KEY LEARNING POINTS:
Understanding different personality/behavioral styles to improve both internal (employee to employee) and external customer relations.
A system for objective hiring and managing of employees.
Key clues to recognizing the different styles.
Two communication truths and how we listen based on our individual style.
How to FINALLY understand yourself, your spouse/partner, kids, team members & customers.
| | | |
| --- | --- | --- |
| | | OutReach at Auburn Montgomery is recognized by SHRM to offer Professional Development Credits (PDCs) for the SHRM-CPSM or SHRM-SCPSM. This program is valid for 2 PDCs for the SHRM-CPSM or SHRM-SCPSM. For more information about certification or recertification, please visit www.shrmcertification.org. |